COVIDSafe Info
Capitol Theatre Tamworth, Tamworth Regional Entertainment Conference Centre (TRECC) and Tamworth Town Hall are all NSW Health regisitered COVID Safe Venues.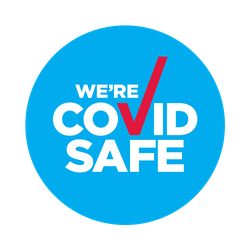 Safe Environment
Entertainment Venues is committed to providing a safe event environment in accordance with the guildlines as set out by NSW Government for Cinemas, Theatre, Concert Halls and Entertainment Venues. The health and safety of our audiences, staff and performing artists is our focus and as a registered COVID Safe venue, we have a COVIDSafe Plan and comprehensive operational plan in place to keep you safe.
Roadmap for easing covid-19 resrictions prior to 8 december 2021
As announced by the NSW Government, NSW re-opened on Monday 11 October 2021 and has now passed the 80% double vaccination target. From this date, eased restrictions allow those who are fully vaccinated the ability to visit our venues for face to face enquiries, ticket purchases and to attend a performance or event.
On entry to the venue, all patrons 16 years and over, must show proof of their vaccination status, check in and out via the Service NSW App (or written registration where the app is unavailable) and wear a mask.
People aged under 16 who are not fully vaccinated must be accompanied by a fully vaccinated member of their household.
For our unvaccinated customers wishing to attend performances and events after 1 December 2021, online ticket purchases and telephone enquiries are available between 10:00am and 4:00pm, Monday to Friday on 6767 5200.
All shows programmed from 29 October 2021 to 30 November 2021 are on sale and will proceed as scheduled, adhering to the NSW Government regulations for stadiums, theatres and major outdoor recreation facilities, of one person per 4sqm or 75 per cent fixed seated capacity. On the day of the performance, the box office and the doors to our venues will open 30mins to 1 hr prior to the event.

Customers are advised that when you arrive at our venues you can assist the entry process by having your tickets ready for checking or scanning. Please locate them in your phone or wallet prior to getting to the doors and make sure your brightness is turned up on your phones.

Snack Bar and Bar services will be available. Food and drinks cannot to be consumed in our venue foyers. Patrons must be seated in their allocated seat and can only remove their facemask to consume food and drinks. Once finished, patrons must continue to wear a facemask.

As per the current NSW Government guidelines, from 8 December 2021 forward, both vaccinated and unvaccinated customers are all, once again, welcome to enter our venues to purchase tickets and attend shows and partake of refreshments in the foyer.
As we are in an ever-changing environment, please check our website and Facebook pages for up to the minute information on events or changes to restrictions in Regional NSW.
The wearing of facemasks at our venues remains mandatory. Masks will be available at the venue if you do not carry one. Children 12 years and under are exempt from wearing a facemask but are encouraged to wear masks where practicable. For more information regarding the wearing of masks CLICK HERE.
For more information on re-opening at 80% Double Vaccinated CLICK HERE
FULLY RE-OPENED ON 15 DECEMBER 2021
What changes on this date:
People who are not fully vaccinated will have greater freedoms
Density limits of 1 person per 2 sqm indoors and outdoors apply to our venues
Masks required only for indoor front-of-house hospitality staff
Masks no longer required for outdoor settings (including for front-of-house hospitality staff)
Proof of vaccination no longer required by Public Health order
Non-critical retail re-opens to all, density limits apply
No person limit in hospitality settings, density limits apply
Singing and dancing is permitted indoors and outdoors
Drinking indoors and outdoors may be seated or standing
No person limit for entertainment facilities (including cinemas and theatres), subject to density limits or 100% of fixed seated capacity
No person limit for ticketed and seated outdoor public gatherings. COVID-19 Safety Plans required for attendance over 1000
Weddings permitted with no person limit, eating and drinking allowed while standin and dancing permitted, density limits still apply.
Funerals permitted with no person limit, and eating and drinking allowed while standing, density limits still apply
Places of worship open with singing permitted by all, density limits still apply
For more information on fully re-opening on 8 December 2021 CLICK HERE